This is part 2 of 2.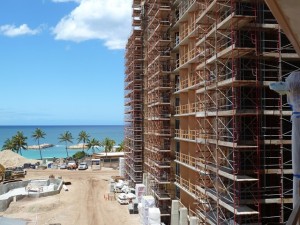 "Building tightness is extremely important in increasing the drying potential of a wall," said LBFG Vice-President Richard Scott, AIA. "A well-constructed building with a good air barrier helps the HVAC system pressurize the building with conditioned air, which increases its drying effectiveness. HVAC systems in warm, humid climates need to pressurize properly, and a proper, continuous air barrier is necessary to accomplish this. After all, you can't pressurize a box with one side open."
This factor is especially important in buildings where a great deal of air movement occurs across areas of small square footage, such as hotel guest rooms, patient rooms in hospitals, high-rise and multi-family condos and apartments, assisted living, and nursing home units.
LBFG recommends having processes in place to increase the likelihood of achieving ultimate leakage criteria, such as quality control steps to identify workmanship issues, or mock-ups. Other keys are ensuring that air barriers are continuous while being installed, and being ready to implement contingency plans if design goals aren't met.
LBFG found that applying these strategies on a high-rise resort in Hawaii resulted in pinpoint precision of factors that were influencing the air barrier characteristics of this 500+-room complex. LBFG's testing and analysis led to implementation of a performance and prescriptive-based program to address deficiencies and achieve acceptable air barrier performance. This reduced the risk of a moisture and mold recurrence at the resort.