This is the fifteenth post in a series by J. David Odom (ASHRAE), Richard Scott (AIA/NCARB/LEED AP), and George H. DuBose (CGC). It was first published as a mini-monograph for NCARB (National Council of Architectural Registration Boards).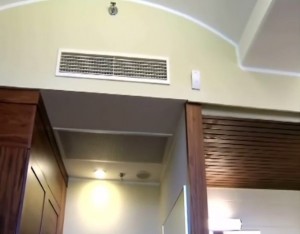 Increased building ventilation over the design amounts can create a range of problems, such as inadequate sizing of the air filters and an inability of the air conditioning equipment to handle the increased moisture (or latent) load.
While the LEED credit mandates a 60 percent RH maximum level during this flush out period, this requirement may not be feasible with the building's equipment. Since final building finishes should be in place prior to flush out (otherwise there are no materials to off gas), it makes the entire building susceptible to mold growth problems. If building flush out occurs after occupancy, then even the furnishings are susceptible to moisture problems.
In a typical 100,000 square foot building, the amount of outdoor air required to meet the flush out portion of this credit is 1,400,000,000 cubic feet. This amount of air volume in the eastern portion of the country during the humid summer months can be equivalent to over 200,000 gallons of additional moisture introduced into the building. This moisture is in addition to the normal moisture load from construction activities, cleaning liquids, or construction-related moisture from curing concrete, paint drying, etc.
One of the additional risks with conducting building flush out (especially in an occupied building) is that it is usually done in the evening when the heat load (sensible) is the lowest and the moisture load (latent) is the highest. This can result in even greater relative humidity levels in the building because the unfavorable ratio of sensible to latent load can either cause overcooling of the building (resulting in flash condensation). The additional likelihood that the HVAC system might still be unbalanced at the time of the flush out increases the potential for moisture problems as the result of this process.
To be continued…
J. David Odom is a Vice President and Senior Building Forensics Consultant with Liberty Building Forensics Group. He has managed some of the largest and most complex mold and moisture problems in the country, including the $60M construction defect claim at the Hilton Hawaiian Village in Honolulu and the $20M claim at the Martin County courthouse. He has also managed over 500 projects for the Walt Disney Corporation dating back to 1982 that have included technical issues related to corrosion, moisture, and design & construction defect-related problems. He has published numerous manuals and technical articles, including a monograph on moisture and mold for the National Council of Architectural Registration Boards (NCARB). For more information, contact J. David Odom at d.odom@libertybuilding.com.
With over 35 years of experience, Richard S. Scott is an expert in the areas of architecture, interior design, and building forensics, with a focus on moisture-related building problems. He is certified by both the American Institute of Architects/AIA Florida and the National Council of Architectural Registration Boards (NCARB). He has published over 30 articles, and has lectured or presented at nearly 40 seminars or events. Mr. Scott has developed various training courses, including a 16-hour IAQ training course for NASA and an 8-hour water intrusion prevention training course for the Naval Facilities Engineering Command (NAVFAC). He can be reached at r.scott@libertybuilding.com.
George H. DuBose, CGC is a certified Florida General Contractor and Vice President with Liberty Building Forensics Group, a firm specializing in moisture intrusion, mold problems, litigation support/buildings forensics, problem-avoidance peer reviews, commissioning, and implementation of green buildings. He has authored numerous articles and co-authored three manuals on moisture-related indoor air quality (IAQ) problems and building commissioning. He has diagnosed and solved hundreds of moisture and mold related building problems worldwide. DuBose can be contacted at g.dubose@libertybuilding.com.