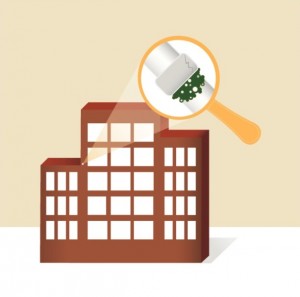 This is the third post in a series by J. David Odom (ASHRAE), Richard Scott (AIA/NCARB/LEED AP), and George H. DuBose (CGC). It was first published as a mini-monograph for NCARB (National Council of Architectural Registration Boards).
After reviewing the designs of hundreds of new buildings over the past 20 years and observing the failures in an equal number of structures, the authors have found the following consistent truths:
Building Commissioning – The current industry approach to building commissioning (even the LEED Enhanced Commissioning version EA Credit 3) is unlikely to prevent moisture and similar building failures in almost any climate, except for the most forgiving climate.
New Materials – The use of many new building products often has the unintended consequence of performing in unexpected ways, sometimes encouraging significant moisture accumulation and mold growth. Since wall and roof assemblies have historically been high-risk areas, it should be no surprise that the increased use of new products in these areas can dramatically increase the overall potential of moisture problems within the envelope.
Increased Building Ventilation – The positive benefits of increased outside air ventilation for the occupant's health and comfort can oftentimes be outweighed by the increased potential for moisture problems, some of which have caused catastrophic failures in the past. Forensic engineers have strong evidence that buildings can perform in unexpected and damaging ways when additional air is moved through them.
To be continued…
J. David Odom is a Vice President and Senior Building Forensics Consultant with Liberty Building Forensics Group. He has managed some of the largest and most complex mold and moisture problems in the country, including the $60M construction defect claim at the Hilton Hawaiian Village in Honolulu and the $20M claim at the Martin County courthouse. He has also managed over 500 projects for the Walt Disney Corporation dating back to 1982 that have included technical issues related to corrosion, moisture, and design & construction defect-related problems. He has published numerous manuals and technical articles, including a monograph on moisture and mold for the National Council of Architectural Registration Boards (NCARB). For more information, contact J. David Odom at d.odom@libertybuilding.com.
With over 35 years of experience, Richard S. Scott is an expert in the areas of architecture, interior design, and building forensics, with a focus on moisture-related building problems. He is certified by both the American Institute of Architects/AIA Florida and the National Council of Architectural Registration Boards (NCARB). He has published over 30 articles, and has lectured or presented at nearly 40 seminars or events. Mr. Scott has developed various training courses, including a 16-hour IAQ training course for NASA and an 8-hour water intrusion prevention training course for the Naval Facilities Engineering Command (NAVFAC). He can be reached at r.scott@libertybuilding.com.
George H. DuBose, CGC is a certified Florida General Contractor and Vice President with Liberty Building Forensics Group, a firm specializing in moisture intrusion, mold problems, litigation support/buildings forensics, problem-avoidance peer reviews, commissioning, and implementation of green buildings. He has authored numerous articles and co-authored three manuals on moisture-related indoor air quality (IAQ) problems and building commissioning. He has diagnosed and solved hundreds of moisture and mold related building problems worldwide. DuBose can be contacted at g.dubose@libertybuilding.com.